Blog
Vicki Shuck and I have embarked on a very interesting project. We are going around the state interviewing long term ranchers and farmers and orchardists for a project we call "Reflections on a Way of Life."
I t is our goal to portray , through our paintings, the country as it is, today…in this time of transition. The intent is not to romanticize the rural west, nor is it warn about the changes taking place--- but rather to just capture what is now so that others can appreciate these areas as they are now. They are not portraits per se, but images of people caught in a moment of time. I will be sketching, painting and photographing the farms, ranches, etc. and using these photos/sketches to create larger studio paintings of working ranches , farms and orchards and the surrounding land. This sketch/pochade of an old barn on the Edwards farm in Hood River especially appealed to me. It echos a different time. I am particularly enchanted by this farm as it has many, many old and some abandoned buildings...more to come! (Our first show will be at the Columbia Art Center in Hood River in 2011.) Next we go to Diamond, Oregon!
We are committed to at least 40 paintings for this show...thus the title "One down, 19 to go."
Comment on or Share this Article >>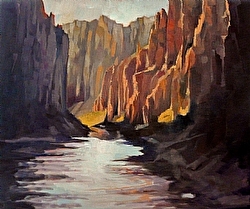 Music to a painter's ears! This painting accepted into a museum show and ultimately scheduled for auction was sold before the auction! It has been the painting I have had on the home page of my web site...need to replace.
I will however, be glad to replace any paintings as long as they are sold in this economy! Imagine my dismay as I get ready for two more shows (one up right now) and I saw the stock market tumble 600 points! Ugh...We are better than this...we need to stop the self inflicted pain and just get on with building rather than destroying our economy. Can we hear some support for civility? OOPS...didn't mean to turn this into a political blog...when in fact all I really want to do is paint!
Comment on or Share this Article >>

I have not had blogging time as I have had to get ready for 3 shows...think I am there...almost. This painting is the final one for my show in September at Tumalo Gallery. I call it View for Canyons Ranch #1, with the intent to paint many more from this location. Unfortunately it is behind a locked gate, but I have tentative access with a friend who shows real estate there. Last time we were there I took over 100 pictures as the land is truly spectacular. I would like to have painted, but thought with limited time, one painting vs. 100 potential reference photos...well..photos won out.
Comment on or Share this Article >>