Blog
A couple of years ago we traveled to the Succor Creek, Leslie Gulch area. At the time I painted several small paintings...but recently when I purchased a wonderful work from the great western painter, Sheffers (d.1949) of Succor Creek, my interest in this beautiful remote area was again awakened. So I sorted through hundreds of old shots to find some for reference.
This is a stupendous, and very little traveled area. One time when we were there the roads were barely navigable...it had just rained and we slid sideways in low four wheel drive...with a huge cliff on one side. Quite the experience!

This is one of the large format (30x30) paintings I hope to have in my show in June.
Comment on or Share this Article >>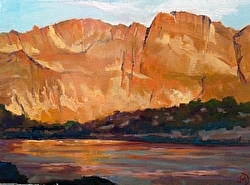 In my almost non-ending work to paint 8 or so larger paintings for a show during Memorial Day, I realized that I need to re-feed my regular gallery (I was fortunate enough to sell several paintings over the holidays)...so going through my photo reference I came across this view looking at the Owyhee River...we had camped above this location but went exploring near dusk. Being in a fairly deep gorge the light on cliffs was a burning gold and the cast shadows lavender. I was transfixed. Of course, I got home and forgot all about this reference photo...a great surprise! Will work on it a little tomorrow...but can probably bring it in "wet" in a day or two. (Again, I think I am channeling Maynard Dixon.)
Comment on or Share this Article >>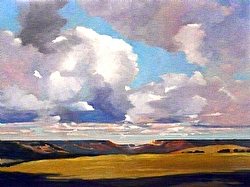 Yesterday, I received a book I had ordered...the most recent publication about Maynard Dixon...I must own all the ones in print, and many not in print. He was and continues to be my muse. But without opening the book...it is real heavy and I want to spend some un-interrupted time with it...I found I was listening to my inner Maynard as I chose and worked on this painting, so I will have to title it a Tribute to Maynard Dixon. I do wish I had the opportunity to meet him and ask him about his work...but in lieu of that I certainly have read almost everything he has written.
Comment on or Share this Article >>