Blog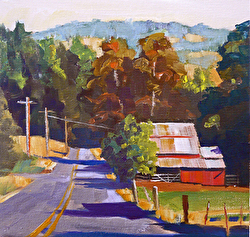 We visited the alpaca farm outside of Hood River...in addition to lovely little alpacas and beautiful wool products there was a barn I just had to paint!
Comment on or Share this Article >>
Vicki and I have been on a whirlwind trip(s) around Oregon talking to orchardists, farmers and ranchers. Here is a view of the Basin Fertilizer Plant in Merrill, Oregon at dawn. Amazing, but a fertilizer plant can be beautiful with the sun shining off the metal buildings as a summer day dawns.
Since that is the time of day when farmers start work, they get to see this beauty, in sometimes the most unusual places.
Comment on or Share this Article >>
The reason I have not been blogging lately is that along with Vicki Shuck (you should see her work! http://www.vickishuck.com/about/) I have been traveling around the state to get photo reference and paint rural areas for an upcoming show. To know more about this show go to Reflections On a Way of Life in the arts works section.
This painting is of Mt. Hood as it stands above like an overseeing deity above Hood River and the orchards.

Comment on or Share this Article >>