Blog
A friend recently referred me to some work by Birger Sandzen (1871-1951)...and I was very intrigued by his impasto approach and also his almost lyrical sense of line and color. I don't intend to spend much time moving in this direction but it is fun (now that I have completed works for my show in September, and prior to going off for a week of Plein Air in the Columbia Gorge) to just play around with a different technique. I mixed all my colors ahead of time...working off of a prior study...and really liked just adding thick strokes with a small bright brush. Think I will do several of these small studies and then "get back to work."
Comment on or Share this Article >>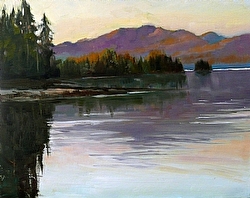 We spent over a week motoring up the Inland Passage of Alaska. It was a wonderful trip as we were on a small, old (1932) boat. We had the opportunity to moor each night in passages with no other boats or people in sight. Then upon coming home I just didn't want to paint. I have been thinking about painting evolution (especially mine) and wanted to think more, feel more, look more at others' work. So I have taken over two weeks off. I think it was extremely beneficial. This is my first painting back from my break. I really felt in the moment while painting and also did not have to scrape out and redo any parts. I am trying to get my values closer together and use fewer colors and think this is a good first step.
Comment on or Share this Article >>