Blog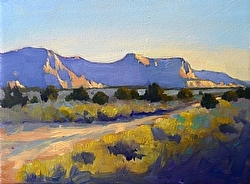 This colorful painting may seem like I have turned my back on John Poon's teaching...nope...but did focus on the blue violet of the distand cliffs. While the painting does rely more on chroma than my most recent works, I felt it needed the intensity to capture this part of the desert. However, since studying with John Poon I am particularly conscious of the blue violet distant hills, mountains or cliffs. In fact, being a painter sort of takes some of the relaxing pleasure of just a long drive...one is always looking at value, hue, chroma, light, etc. Well, that is just another pleasure, I guess. (I am going to go back and adjust some of that horizontal in the background, tomorrow...and work on some mid-hi-light colors int he cliffs....
Comment on or Share this Article >>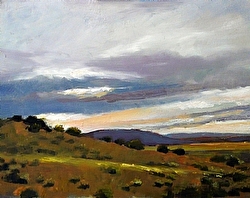 After being in California for the past several days one would think I would be painting vineyards. Well, there will be some vineyards in future weeks, but the first thing I do when getting back into the studio is to look at semi-finished paintings with a clear eye. this one needed a little refinement. so my first task was to work a little on the horizon. That being done I could start a fresh painting. I find that if I start a new painting immediately after a break it is often a disaster. Guess it is like the Russian saying, "the first pancake is always a lump." So just looking and refining works best for me.
Comment on or Share this Article >>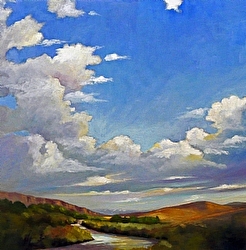 This 50x50 painting has been a challenge. In fact there have been three major revisions of the land...I initially painted some hills from eastern Oregon, and then decided the hills and sky did not go together...so then a desert landscape...and again there was a disconnect. I went back to the original photo reference and finally realized that I had another photo with similar clouds taken just a few weeks ago when we were in the Owyhee State Park area...so this is an all new painting!

Comment on or Share this Article >>