Blog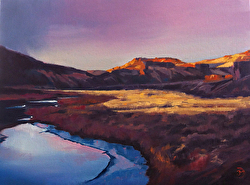 We have had a rather gray and blustery week with some snow. So where better to be than in the studio creating warm paintings? This painting...I am calling it Oregon Outback...if from photos I took a couple of years ago.
During January and February I like to get to the studio early (or after the winter sun has come up over the horizon) and spend 4-5 hours in the studio. It is very restful time where I can work on paintings for shows scheduled later in the year and more importantly improve my skill.
Studio skill and plein air skills seem almost, to me, to be separate but interdependent skills. In my studio I have a larger pallet...both in size and in colors. I allow myself a few "guilty pleasure colors" (two brands of Naples Yellow Light, and Turquoise) while in the field I try to limit myself to 5 colors plus white. In the field there is little time to make nuanced corrections. You ask yourself, "what do I want to paint?" then block out your composition, go in with your darkest darks and rush to catch the light. Studio painting involves going through literally thousands of photos stored for future use and making decisions based on thumbnails. Then I play with the color and maybe run a black and white version (for values) and then up to the studio, with a book on tape. (Nope, no ethereal mood music for me...either history,or a Scandinavian murder mystery...) Currently I am listening to a great book on Mallory and Mt. Everest
I can get so lost in the painting that I might play 2-3 chapters of a book without realizing that I have already listened to it. Or I actually replay whole chapters as I was lost in the painting process. Well here us my most recent work...it is about 90%. I will let it sit a couple of days and then go back and see what needs a final correction.
Comment on or Share this Article >>