Blog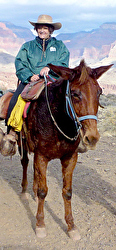 Last week's trip, on mule back, down to the Phantom Ranch (at the bottom of the Grand Canyon),had a magical affect on me. The trip was (for me) all about seeing a nearly inaccessible lodge designed by Mary Jane Colter, a 19th/20th century architect and personal hero. Being down there in so remote and beautiful a place had me reflect on what nourishes my painting.

At times I feel not of this present time. It is as if I "remember" a life between 1900 and 1920. My inspiration and spirit resides in that other time, while my corporeal body is more of a restraining coffin anchoring me to this almost alien present time.

My soul is not part of the eBay/Twitter world. My creativity lives in a world of post impressionistic Western romanticism...A visual life that is surrounded only by the vast horizons, tumultuous skies and soul replenishing solitude of the remote west. This vision, and the beautiful reality of my corner of the west allows me to paint and fuels my enthusiasm for painting.

Comment on or Share this Article >>