Blog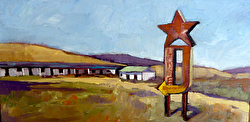 I am really intrigued by these old motels...will keep painting them until I tire of them. Each time I find a good example I wonder about the history...family vacations? Stopping after a long day on the road?
Wasn't quite able to read the faded sign on this...the entrance part was still visible...but was it the Lone Star? The Star????? Well, all that is in the past.
I did take some artistic license...left out some really miserable sheds and junk...just showing a little respect for this faded glory.