Blog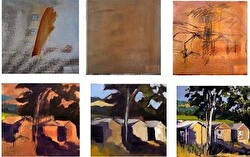 For our project (renamed: A Sense of Place), Vicki and I have been asked to give a talk. I thought it would be interesting for people to see how a quick field sketch is painted. In this series I actually used a sanded over 8"x8" linen artist board. (This is not only "green"--re-purposing---but saves $'s and when finished is like painting on a triple oil primed canvas!)
First I sanded down the old/unsuccessful painting,turned it on its side (to avoid being confused by any sign of the former image); then I laid in a wash of transparent iron oxide and turp. Next a charcoal sketch. (I with don't always do this, but when there are structures and the need for accurate perspective I find it saves correction time.)

Then I blocked in the major shapes starting with the darkest, then the basic colors of the shapes and finally detail. (I may go back and revisit this painting in the studio and crisp up some detail...but this was a "pochade.")

This is a very simple piece but I hope it is fresh and communicates an afternoon view of fruit pickers' cabins...simple but sun dappled.